Learn Morr, Do Morr…
Training
Shooting is both a sport and a craft. Just like any other sport, once we learn the ropes and the how-to's, there's no end to the amount of enjoyment, and aptitude we can build. Check out our full list of
Events
Our shooting range and training center is designed with your event in mind. Whether its a bachelorette or bachelor party, an afternoon of solo shooting, time with friends or just honing your craft, Morr can accommodate your needs and provide a great experience.
Our event options include:
Birthday Parties
Bachelorette / Bachelor Parties
Graduation Parties
Corporate Events
Networking Events
Team Building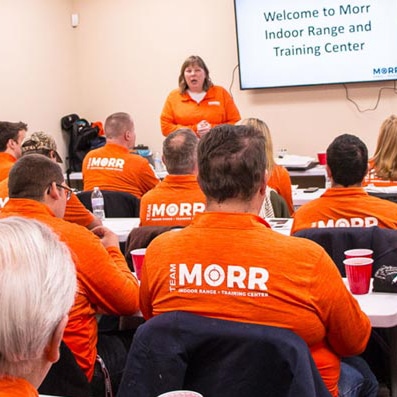 Ashley R. from Lancaster, PA
Click on Class Title to See Dates and More Information
---
Still not sure?
Stop by our brand new indoor range and training center, located in the heart of Lancaster County, PA to meet our training staff and tour our facility.